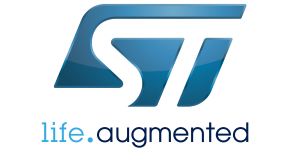 Created in 1987 with the merger of the Italian company SGS Microelettronica and the French company Thomson Semiconducteurs, STMicroelectronics is an independent worldwide broad-range semiconductor supplier and it is ranked in the top semiconductor companies in the world with a turnover of 6.97 billion USD in 2016. ST has 11 main production sites, 7 Advanced R&D centres and 39 design and application centres, with more than 43000 employees over the world. ST is present in 35 countries with 79 sales offices.  From energy management and savings to trust and data security, from healthcare and wellness to smart consumer devices, in the home, car and office, at work and at play, ST is found everywhere microelectronics make a positive and innovative contribution to people's life.
The Company has particular strengths in Multimedia, Power, Connectivity and Sensing technologies and its sales are well balanced among the industry's major sectors and products : Automotive and Discrete Group (40 %), Analog and MEMS Group (23 %), Microcontrollers and Digital ICs Group (33 %), Imaging Product Division (4 %). ST is among the world leaders in many different fields, including semiconductors for industrial applications, inkjet print heads, MEMS (Micro-Electro-Mechanical Systems) for portable and consumer devices, microcontrollers and smartcard chips, automotive integrated circuits, computer peripherals and wireless.
From the beginning of the modern Space era, ST has been committed to the Space industry obtaining in 1977 the 1st ever delivered European Space Agency qualification certificate for space components supply.
ST has built his know-how as broad range semiconductor supplier with a vertically integrated manufacturer working model, mastering and leading all steps of the components Value Creation Chain: product definition, design, layout, wafer fabrication, wafer probing, assembly, electrical testing, finishing and all the quality assurance steps related to those activities.
This business model has been transposed to the Aerospace components, making ST a vertically integrated broad range Space component supplier, controlling and mastering its own in-house processes to the benefit of the High-Reliability, providing better opportunities for investment growth through reduced uncertainty.
Involvement in the project
STMicroelectronics will give access to the consortium to its naturally immune to latch up 28nm FDSOI technology. The chip will be designed with the complete 28nm FDSOI platform offering outstanding intrinsic radiation robustness.
STM will also implement the last generation of ARM real-time core (Cortex-R52) that will bring a significant performance breakthrough to the next generation of European microprocessors for Space market.  The choice of the European ARM technology, the most widely used processing technology in the world for embedded electronics, will offers to DAHLIA users the best possible ecosystem for technical support and software development.